Guest Artist 2011: Ariana Debose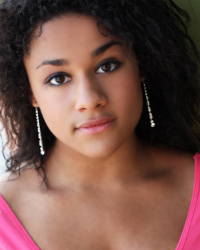 Ariana is a Raleigh, North Carolina native and a graduate of Wake Forest-Rolesville High School. Her many credits include both the title roles of Cassie in A Chorus Line & Aida in AIDA (both with Broadway Series South); Grease at North Carolina Theatre; a finalist contestant on Fox's hit show SO YOU THINK YOU CAN DANCE (season six); and One Life to Live (Star Crossed Lovers Series). Ariana also originated the role of Nautica in Andy Blankenbuhler's BRING IT ON the musical.
Just recently Ariana made her New York debut in Steven Sondhiem's COMPANY with the New York Philharmonic starring Neil Patrick Harris, Christina Hendricks of Mad Men, Stephen Colbert, and the great Patti LuPone. The show played in movie theatres across America in June of this year.
Ariana received her original dance training at CC & Co. Dance Complex in Raleigh, NC and has worked with numerous choreographers from New York to Los Angeles. Some of these include: Sonya Tayeh, Mandy Moore, Tabitha and Napoleon D'umo, Tyce Diorio, Mia Michaels, Nick Lazarini, Wade Robeson, & Martha Nichols of So You Think You Can Dance, Jason Parsons, Lauren Adams, Wes Veldink, Josh Bergasse, Joe Lanteri, and Elizabeth Parkinson. She has also worked extensively with the faculty of the Western Carolina University's Triple Arts Broadway Series- including Christopher and Kelly Crandall Damboise, Terrence Mann and Charlotte Damboise. She is an award winning choreographer and has set work on dance companies, studios, dance teams, color-guards and most recently Carolina Crown Drum Corps International.
Ariana visited Carolina Dance Company in July of 2011 during the "Master Class Series" as a guest jazz & lyrical instructor.
© 2014. thecarolinadancecompany.com