Guest Artist 2011: Philip McGee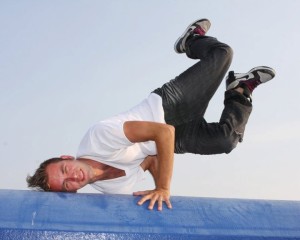 Philip McGee has been dancing and competing since the age of 14. His dance training includes hip-hop, jazz, ballet, lyrical and tap. He has attended competitions and won awards regionally and nationally. Philip has studied under great teachers including: Shane Sparks, Mark Meismer, Dave Carter, Wade Robeson, Swoop, Dante Williams, Eddy Garcia, Joshua Allen and Mandy Moore. He was chosen to be a performer at the 2000 Olympics held in Sydney, Australia, and has also performed in the Bahamas . Philip has choreographed and performed in the North Carolina Dance Festival and Dance-A-Lorus., both held in Wilmington, NC. He has choreographed for Wilmington Extreme Dancers, John T. Hoggard Dance Team, and Port City Diesel Dance Team . Philip has also set choreography on the dance teams at South Brunswick and Cardinal Gibbons high school. Philip choreographed a dance sequence for HBO's new series produced by Will Ferrell, "East Bound and Down" in 2008. He has been a judge and choreographed the opening number for UNCW's dance competition, "Hawk it Out." Most recently, Philip filmed dance scenes in an ABC family movie, "Home and Away" filmed in Wilmington. Philip has been teaching hip-hop since 2003.
Philip visited Carolina Dance Company in July of 2011 during our "Master Class Series" as the guest hip-hop instructor.
© 2014. thecarolinadancecompany.com